PET and ANIMAL PORTRAITS by JOHN WARBURTON
(A pet portrait is for life not just for Christmas)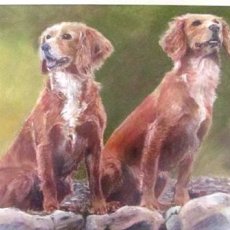 Pet portraits are usually painted in oils or pastel, my favourite medium for this subject. I am able to work from a good quality photograph.
PRICES
Pencil Drawing £75 to £120 (mounted)
Pastel Painting £120 to £200 (mounted)
Oil Painting £175 upward dependent on size of canvas or board (unframed)
Contact me via the Contacts Page or by text 07919 414850 if you're interested or wish to discuss further.