Christmas Cards 2017/2018
The Sea Coaler
Wensleydale Bus
The Beach Huts
Twelve months of travel and sketching. My Facebook page has many more
New England, Norway, Berlin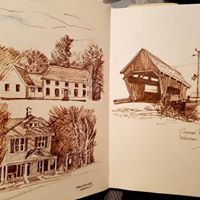 A Christmas commission
"Alfie" (oils) He's gorgeous!
The Beast from the East 2018
Prospect Hill (oils)
Summer 2018 - we've had some warm weather so a chance to get outside for some plein air painting - big brush small canvas
Series of still life paintings with a one hour time limit - alla prima
I've been trying out large brushes on small boards, some about postcard size. The results show a looser style I think
Feb 2019
Commission
Bandit and Spider
Feb 2019
Busy with large brushes
March 2019
Some layered drawing - interesting process. May lead to painting
April
Too cold in the studio so it's watercolours at the kitchen table ...
New England Lighthouses triptych
Seaham Lighthouse
Roker Pier, Sunderland
St Mary's Lighthouse, Whitley Bay